Coffee with Anna Hayman Designs + giveaway
There are textile designers that you might vaguely remember but there are also those who's designs you will remember forever and the patterns are easily recognizable to that designer - one of those designers in my opinion is Anna Hayman - If you haven't seen her work then you can check it out it here .
Anna's patterns captivated me the moment i first saw them on Anna's instagram there are nothing like i ever seen before - and made in a traditional way - using linocuts. This technique was first shown in 1911 in America -its "Father" was Czech émigré Vojtěch Preissig.
As a portrait photographer i am fascinated by people - so naturally i wanted to find out a bit more about the lady behind the bold designs. I believe that you can learn how to do things but you can't learn being creative and having "the eye " for things - and Anna for me is one of this creative ladies that have a great flair when it comes to creating intriguing pattern - that can be purchased as a wallpaper , lampshades or cushions - they will sure bring a touch of eclectic elegance into any Interior .
Anna's beautifully crafted Lampshades have created a huge stir on Instagram - no wonder as this tasseled beauties create a huge impact and fit just about in any interior style . Fabric is truly a luxe statement and added tassels - made them truly sexy! (there i said it!)
Mr Grumpy made a running commendatory as soon as he heard the word sexy - he only responds to few key words ... One thing he said was : " That's what our bedroom was lacking - sexy" Safe to say Mr grumpy is in the dog house while i am looking at amazing lampshades that don't talk back ;)
So without further delay I introduce you to Anna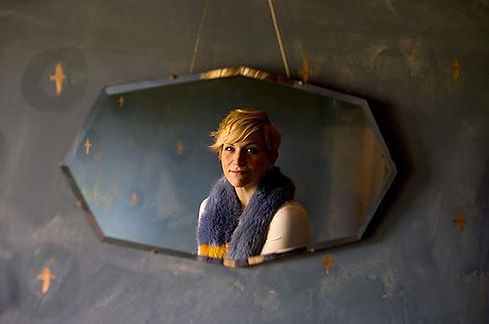 Aka creative queen of pattern
1. Can you tell our readers about yourself and your brand ?
I create prints from linocuts and other mediums and make printed products from them for the interiors industry. I have seven main prints of which people can order lampshades, wallpaper and fabric. I have also just launched a small range of Art Prints with artist Beth Fraser.
2 .what inspires you ?
Pattern is my ongoing obsession, and I have many more to make. If I lived three times over I would not make all of the patterns I should like to, so I narrow it down to ideas which I think will be popular or interesting to others. I use Pinterest to gather ideas as well as visiting National Trust properties, properties pertaining to the Bloomsbury group, and also extensive devouring of Art books of which I have recently inherited a great number. My current inspiration points are the artwork of Tamara De Lempicka, African textiles, Shibori, the work of Aubrey Beardsley and Indonesian prints.

3. what helped helped you in your fabric design journey ?
I was encouraged to explore my creativity more fully by my Pottery teacher, back in 2014, which is why I started with ceramics. Fabric is in my working history however, having always worked in fashion, which is an avenue with my fabrics I should like to delve into in the future. What has been helpful recently is to have production and distribution of my wallpaper range taken over by wonderful husband and wife team Woodchip and Magnolia.
4. what is one of the significant moments in your brand history that made the biggest impact?
I am very pleased to have found a brilliant photographer, Jonathan Basset, who produced the image of my green lampshade on the dark background. This image really catapulted the brand forward and broke into the 'dark interiors' scene where I have been so warmly welcomed. So I have learned that good photography really does make all the difference, and will be creating some 'print on print' room set images for my upcoming wallpaper collection, which I cannot wait to get started on.
5 .did you have any lows in your journey and what did you learn from that?
I have dips, but have learned not to listen too closely to the negative voices that we all have from time to time. It is terrible what we do to ourselves internally and I am no stranger to self-implosion, but have learned to sort of wait it out and work all the same.
6 .how do you combine work and home ?
Having recently taken on a new studio, home is becoming a tranquil showcase for my work as well as somewhere I can share the journey of redecoration. We moved in a year ago and have almost completed refurbishments (there wasn't any structural work to do)
and are opening for a local Open House event called Artwave on 19/20 and 26/27 August. This has been a useful deadline to work towards, as the whole house and garden will be open for viewing, as well as showing other artists work. My studio is much needed for a separate space to work now, but I will have to move again as the building I'm working in is being demolished in February.
7. Who is your design or style icon ?
The Biba influence is quite strong in my work, a few years ago a friend of mine made a documentary about Barbara Hulanicki and I was lucky enough to meet her and get involved in a Q and A which was fascinating. I also love the work of Celia Birtwell/ Ossie Clark and Cressida Bell, and am a frequent visitor to Charleston farmhouse where I draw ideas for my home.

8. Does your home reflect your bold and creative brand ?
It does, and I am lucky in that the people I live with are supportive of my ideas. We have decided to die there, so have absolutely no interest in resale value, and therefore can do as we please. It is a wonderful feeling to be able to unfold into a home knowing you will be there for a long time. it changes continuously however, as like most of your readers I am an avid faffer, but the bones are in place now to add the bitty bits, which is the fun part.
9. Were you artistic as a child?
I keep thinking lately about these painted wooden diamond shapes we had when I was a child, which you could make into all sorts of patterns, I was engrossed by them, and sewing, sewing and drawing all the time. I'm from a very artistic family, so this was always well received and encouraged.
10. Since Style Squeeze is all about small spaces - how would you squeeze most of small square footage?
My main suggestion would be to always paint a ceiling. You would think it makes a room smaller but in fact does the opposite, and I think it looks odd to have a white hat on a bold or dark room.

11 .What do you do in your spare time?
I still do a bit of piano teaching, pottery, and have just discovered Clubbercise, which is amazing! I also inquired today about Swing and Charleston dance lessons. I don't want to die feeling I didn't dance enough. I adore music, and missed my calling as a pianist, but I'm glad really as it is a rather solitary instrument.
12 Do you put limitations on the work in terms of brave and bold or is there no fucks given?
You know sometimes I see a designer launch, with a colour packed collection, and then follow that with something more monotone. Once I asked a successful but relatively new designer why they had done this and they said they felt pressure from the interior design community to produce more greyscale designs to easily fit in with their other elements. This is a constant question in my
mind of whether to go 'neutral', or include neutral options, but when I do it doesn't look like mine. So not exactly no fucks given, but I am considering how to walk the line of this while maintaining a recognizable brand which is known for using colour. But I'm not going to lay down and fit in, it's just not me!

Qucik Fire questions :
Quick Fire questions :

13 - design or functionality?
Design, but I do struggle with useless items!
14What's the stupidest thing you've ever done?
Had a bikini wax on channel 4's The Salon
15. Which bad habits of other people drive you crazy?
Loud eating uggggggh.
16. What was the worst job you have ever had ?
I've loved them all tbh
17. Would you rather Kiss a jellyfish or step on a crab?
Crab!
18. Got any hidden talents ? (what are they)
Singing - I still want to be a pop star (sad as it is).
19. coffee or tea?
Either why you making one?
20 What is the one thing, you can't live without?
The means to create - I have a fear of locked-in syndrome.
21. In " Alternative universe if you could be any piece of furniture what would you be ?
A patterned hammock

Thank you so much Anna for agreeing to talk to us - i can safely say my nosiness - i mean curiosity have been fulfilled x
Now for the fun part !
Anna have Made this amazing Giraffe pattern cushion (pic below) for a one lucky winner
To be in a chance of winning please
competition will run till Sunday 30 rd of July and winner will be picked at random and announced on Monday - Good luck everyone
 
This post and a giveaway was made in collaboration with Anna Hayman designs .- thank you Anna for this amazing interview and prize

Love
Pati x

To find out more about amazing products please visit https://www.annahaymandesigns.com/