Taking art world by storm - Meet Diedododa + Canvas giveaway
I have always loved out of ordinary art - and when it comes to out of ordinary and reasonably priced art - there isn't much choice - so imagine when i came across this Amazingly talented Dodo Flügge via Instagram (@diedododa ) - safe to say it was love at first sight -so i rushed in to check her website and spotted her Noblesse Oblige collection ! - i think i must have screamed in delight as i got Mr. Grumpy full attention and as much as he hates when i show him anything that lands in my "dream to buy list" - his first words where "so when are you buying it" - this left me gobsmacked as Mr tight arse always bloody argues when it comes to spending money .
Anyway Back to the amazing art - Dodo have created quite a few collections to suit every taste - from postcards to prints - and coming very soon canvases which btw you be able to win , Dodo art is seriously addictive - once you got one print you will want them all ( see below for my "dream wish list") - every picture gives of different emotions and vibes . I just love Dodo's ability to combine art ,photography and digital craziness - this beautiful mixed media art combined with Dodo amazing personality made me really exited for this interview to find out a little more about the creative lady behind the art .So without further ado i would love to introduce you to Dodo , Sit comfortably and grab a favorite beverage of your choice cos you are in for a great ride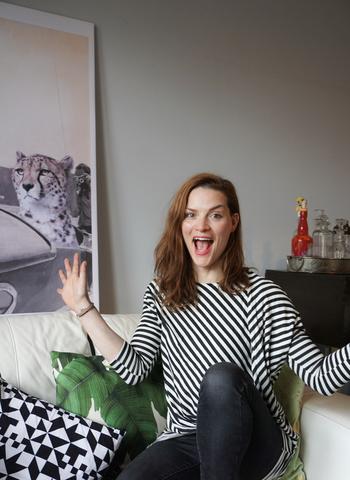 Fearless , creative lady behind Diedododa - with head full of ideas , and amazing sense of humor.If you are after something out of ordinary -this girl is your ultimate go to when it comes to art!
1. Can you tell our readers about yourself and your brand ?
My name is Dodo and I run diedododa, where we sell own design wall art, greeting cards and home decor. The business is based in Edinburgh, Scotland and all the artwork is made by myself. Born in Hamburg, Germany I have lived in Edinburgh for the best part of 16 years and call the place my home over Germany. Fun fact: I never went to art school and am entirely self-taught. Some people think that's a bonus, others not so much….you decide!

2 .What piece are you most proud of , or one that hasa significance to you?
Always the one I am working on, haha! Every piece has its greatest meaning to me while I am working on it because that is the time when the subject matter is most relevant to my life. I am most proud of any piece that can elicit a certain sense of familiarity or evoke feelings and thoughts in whoever looks at it. To me that is what art is all about.
3. Can you tell me some of your strengths that really helped you in your design journey ?
Being self-motivated, willing to learn and generally pretty organised.

4. What would be your tips for anyone thinking of starting their own business in design ?
Ideas are nothing unless you are willing to get off your ass and turn them into something tangible. Stop talking start doing.

5. Can you tell me about your greatest high in your career ?
Whatever is around the next corner, haha! Since I haven't been doing this for that long and I don't like to view things in superlative and don't like to pick one thing…. there's been a few amazing collaborative works with bigger brands and even the odd international magazine…

6 .What was your greatest failure and what did you learn from that?
There haven't been any dramatic crashes so far. Maybe the trick is not to think of things that are not going the way you initially expected as failure; but sort of an unexpected alternative ending?

7 . Who has impacted you most in your design journey and how?
I think the greatest impact on my development have been life experiences like travelling or making random acquaintances to draw lessons from rather than specific persons.

8. Who is your design or style icon ?
Style icon: my mum in her 20s

9 What do you think has been your brands super power?
The element of surprise and being a little WTF…as I like to work inlots of styles and mediums people never know what's round the corner, haha!

10Were you artistic as a child?
From when I can remember….I've always been drawing and painting….my mum had to constantly move furniture because I would keep attacking the walls!

11. Since Style Squeeze is all about small spaces - how would you squeeze most of small square footage (your tips suggestions )
Create a somewhat fake perspective by playing with size of artwork on the walls.

12 .What do you do in your spare time?
Lie in bed, eat, and draw ideally

13 Do you put limitations on the work in terms of brave and bold or is there no fucks given? Zero. Fucks. Given. I have a pretty dark sense of humour and (I hope)it shines through uncertain works.

Quick fire questions ;

14 - design or functionality? Design
15What's the stupidest thing you've ever done? worked myself into an eating disorder as a teen because I thought I was fat.
16. Which bad habits of other people drive you crazy? slow walking, lack of common sense and critical thinking
17. favourite dinosaur ;) the screechy flying one (not familiar with the scientific names, haha)
18. What was the worst job you have ever had? Working in a dodgy AFhotel/motel in Inglewood, L.A…run by a guy who called himself Frank Martini..need I say more?!
19 . would you rather Kiss a jellyfish or step on a crab? Jellyfish! Love them!
20. Got any hidden talents ? ( what are they) Played the piano for 10 years if that counts…
21. coffee or tea? Coffee
22. What is the one thing, you can't live without? My iPadPro
23. In " Alternative universe if you could be any piece of furniture what would you be ? A vintage Fornasetti bureau
24. What was your worst decor faux -pass? Painting every wall a different, obnoxiously bright colour in my room as a teenager…..it was the 90s so that might explain that…More recently: overstepping the line between "just clutter" and Maximalism every now and again, haha!
25 .who would be your idea client to work with? I like a challenge so this might be a surprising answer: I would love to see more unusual and interesting art in corporate spaces like hotel chains, hospitals, banks, etc…..Would love to work with those and see how much a potentially boring and generic space can be turned around by eye catching wall art.


 
now -the fun part !
Diedododa being an amazing girl as she is donated a fantastic Canvas print for one of the lucky winner - how cool is that ? to be in the chance of winning please
competition will run till Sunday 20th of August and winner will be picked at random and announced on Monday - Good luck everyone
 
This post and a giveaway was made in collaboration with amazing diedododa thank you so much for allowing us to run this giveaway

Winner is @jensworld13 congratulations x

Love
Pati x

To find out more and purchase amazing art please visit https://diedododa.com/